COMMERCIAL AC SERVICE
FOR HOUSTON, BRYAN, TX & BEYOND
---
During a brutal Texas summer, all you want to do is keep cool. If you own a business in Houston, Bryan/College Station, Cypress, Spring, or Jersey Village, TX, you understand that keeping your employees and customers as comfortable as possible has to be a top priority. Luckily, you can contact our commercial HVAC company, Environmental Air Systems Inc., to take care of any of your AC service needs. From commercial AC installation to system maintenance plans, our team has the training and knowledge to get the job done right.
If you have a manufacturers' warranty on a commercial air conditioning product, our commercial A/C technicians will honor it. We also honor most extended parts and labor warranties and we make sure you don't pay any more than you have to for our commercial air conditioning services. Our 24/7 emergency service is also available for commercial clients, so don't hesitate to contact us for repairs or an AC maintenance plan.
MAINTENANCE

---
Keeping your commercial HVAC systems running smoothly is essential to your daily business operations. Customers don't want to enter an establishment that isn't comfortable, and you may not even be able to conduct business without these systems fully functional. Environmental Air Systems Inc. can help give you peace of mind with seasonal maintenance services. We inspect each component and look for any signs of trouble. We don't want you to experience any surprise breakdowns down the line. Call us today to schedule a tune-up.
RETAIL

---
From clothing stores in malls to small-scale shops, Environmental Air Systems Inc. can manage all of your HVAC needs. Customers deserve comfortable temperatures when browsing and shopping, and your staff need adequate temperatures in order to best serve your customers.
RESTAURANTS
---
No one wants to sit down for a meal in a hot, sticky restaurant and staff certainly can't perform their best in uncomfortable temperatures. Our expert technicians diagnose and troubleshoot A/Cs of all different makes and models, providing repairs on the spot to keep your system up and running. Contact us today and let us know how we can help.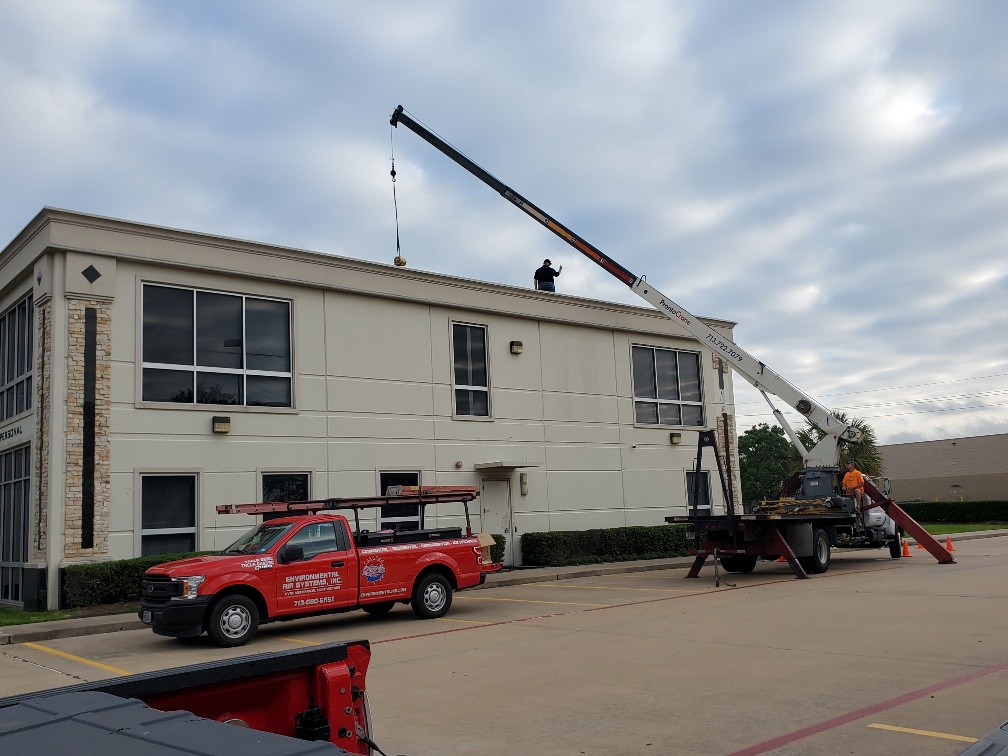 ---
OFFICE BUILDINGS
Between creating a welcoming, comfortable environment for clients to ensuring that your staff are able to continue to perform their duties effectively, it's necessary to maintain a properly working HVAC system. From repairs and maintenance to new installations and replacements, Environmental Air Systems Inc. has you covered. Call us anytime you require HVAC assistance.
PLACES OF WORSHIP
---
Environmental Air Systems Inc. helps places of worship throughout Houston and Bryan/College Station with all of their HVAC needs. With 24/7 emergency services available, our techs will be there for you whenever you need us. We have offices in both Houston and Bryan/College Station, allowing us a wide service area and opportunity to work with any places of worship in and around the local communities.
COMMERCIAL REFRIGERATION

---
We also provide prompt and reliable commercial refrigeration repair services. If you find that your refrigeration unit or ice machine needs to be repaired, give us a call to complete the job. Even if you didn't have your refrigeration units installed by us, you can have us stop by and repair your units. While we are there, we can determine whether it may be beneficial to install new refrigeration units instead of repair.
To keep your commercial refrigeration units in long-lasting condition, it is important to consider commercial refrigeration maintenance. Our commercial HVAC company provides maintenance programs not only for heating and air conditioning but for refrigeration units as well. If you would like to learn more about commercial refrigeration maintenance, give one of our HVAC technicians a call today.